Elevator Options & Installation
Personalized Elevator Options
Rise Above Elevator recognizes that people install residential elevators for many reasons. Owning a home lift is becoming a common convenience, similar to an appliance.
Whatever the reason, a residential elevator is a great investment for the future of your home. Many times, homeowners have residential elevators installed in preparation for aging in place, an upcoming surgery, moving in a elderly family member, or even for their pets if they have trouble going up and down the stairs.
Our team of experts will provide you the ADA accessibility you need and deserve. Give us a call today to find out how we can elevate your lifestyle with the convenience of a home lift.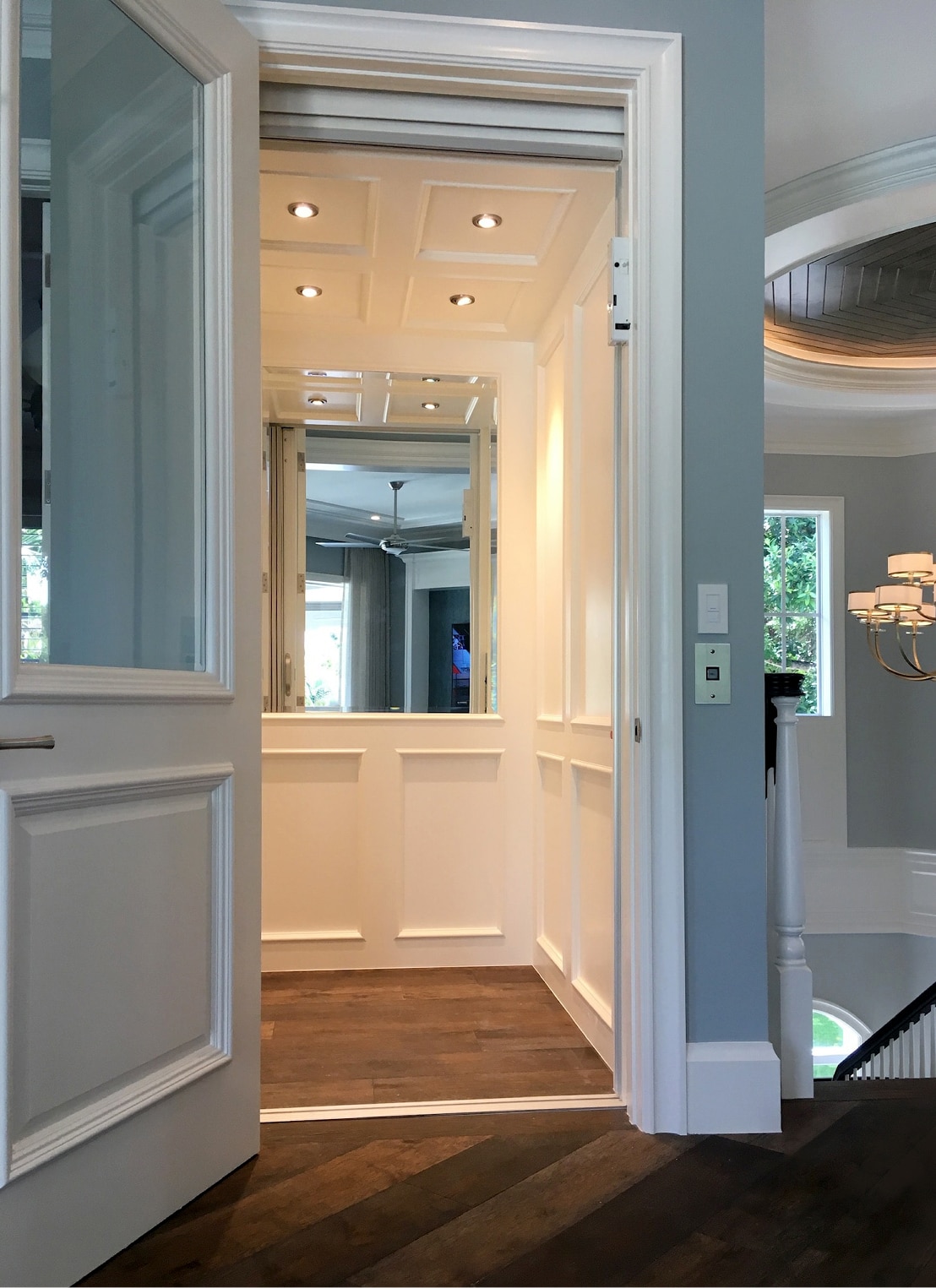 Hydraulic Elevators
Quiet Ride Lift (QRL)
We offer the smoothest hydraulic residential elevator in the industry. Our residential hydraulic elevator lifts are 2-to-1 roped hydro-systems with structurally engineered slings to carry your cab.
Our lifts capacity ratings are determined by the square footage of your cab. Standard capacity is 1,000 pounds.
Our installation team is led by state-certified elevator technicians to ensure that all of our lifts are built to meet and exceed ASME 17.1 5.3 standards, which is currently the national elevator and private residence elevator building code.
Adjacent, Remote, and Overhead Machine Rooms
A QRL requires a machine room and the ideal location for it is adjacent to the hoistway. Remote machine rooms are no problem either, but they will require a pre-pipe either overhead or underground. For projects that don't have a machine room we also offer a machine roomless installation. Please allow us time to review the site and plans to ensure what type installation best suits your needs.
An overhead head attic machine room is also a good choice, provided there is enough room to accommodate the equipment. It is required by the national elevator code (Per ASME 17.1 5.3 Private Residence Code) to have a clearance of 36" in front of the controller with no obstructions.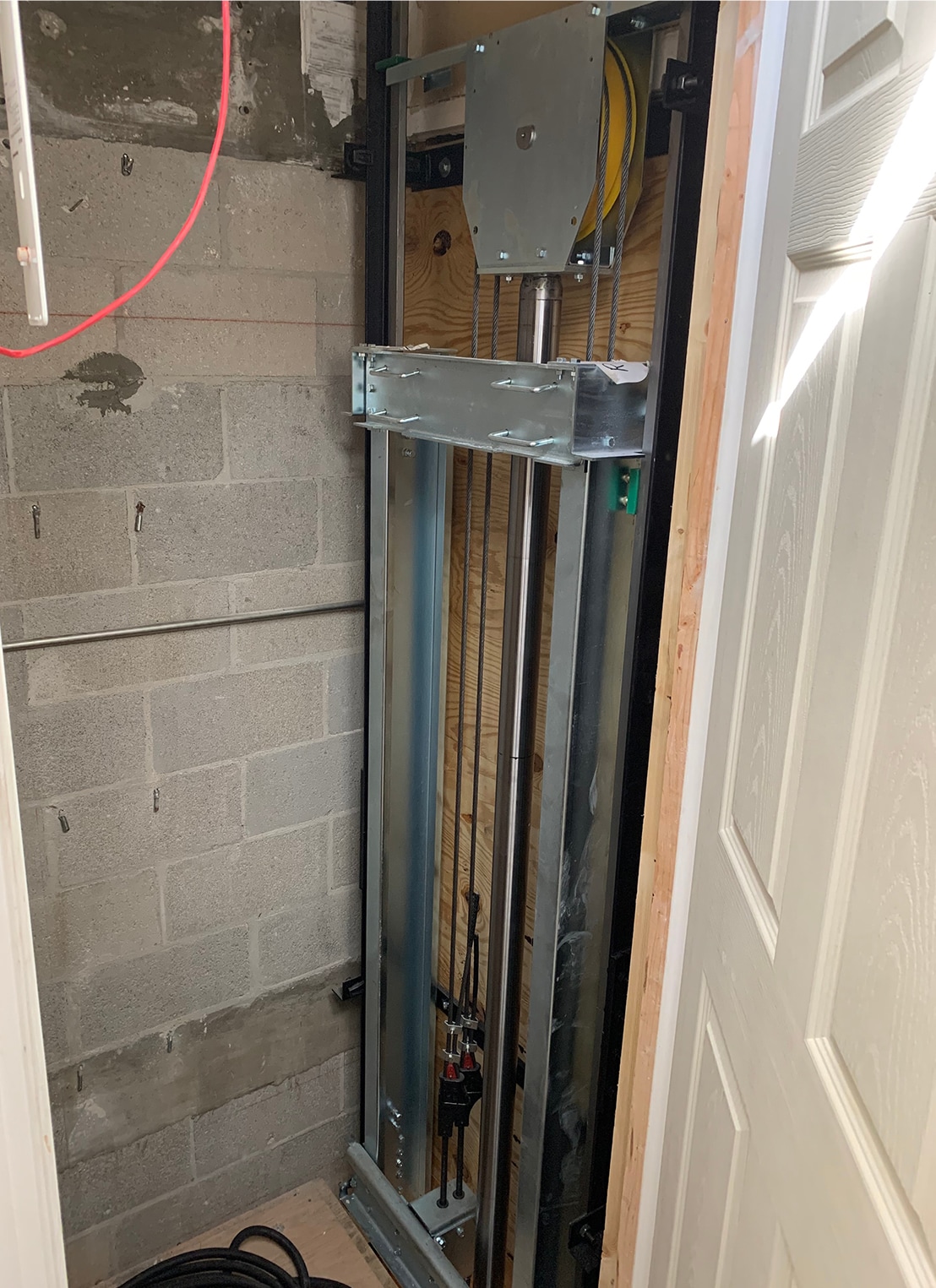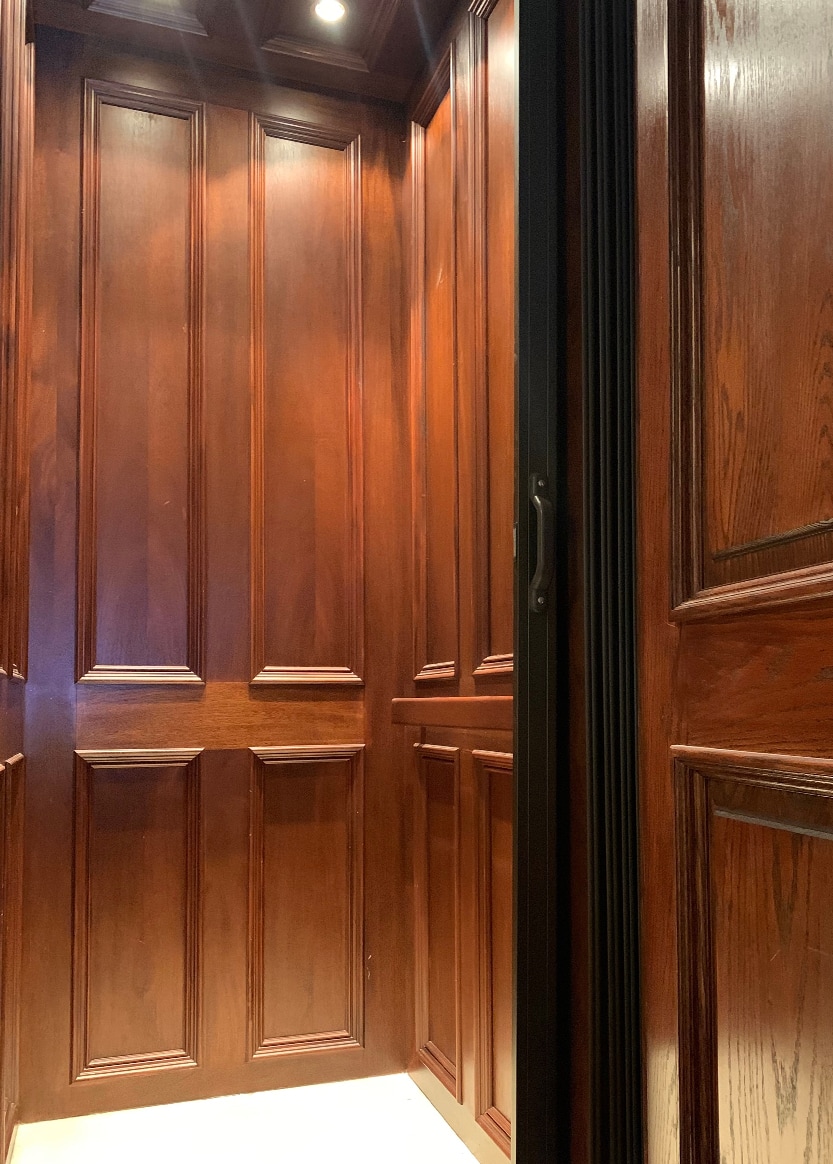 Rise Above Elevator also offers custom cab design packages with a variety of elegant cab options so your beautiful elevator can stand out as a feature in your home.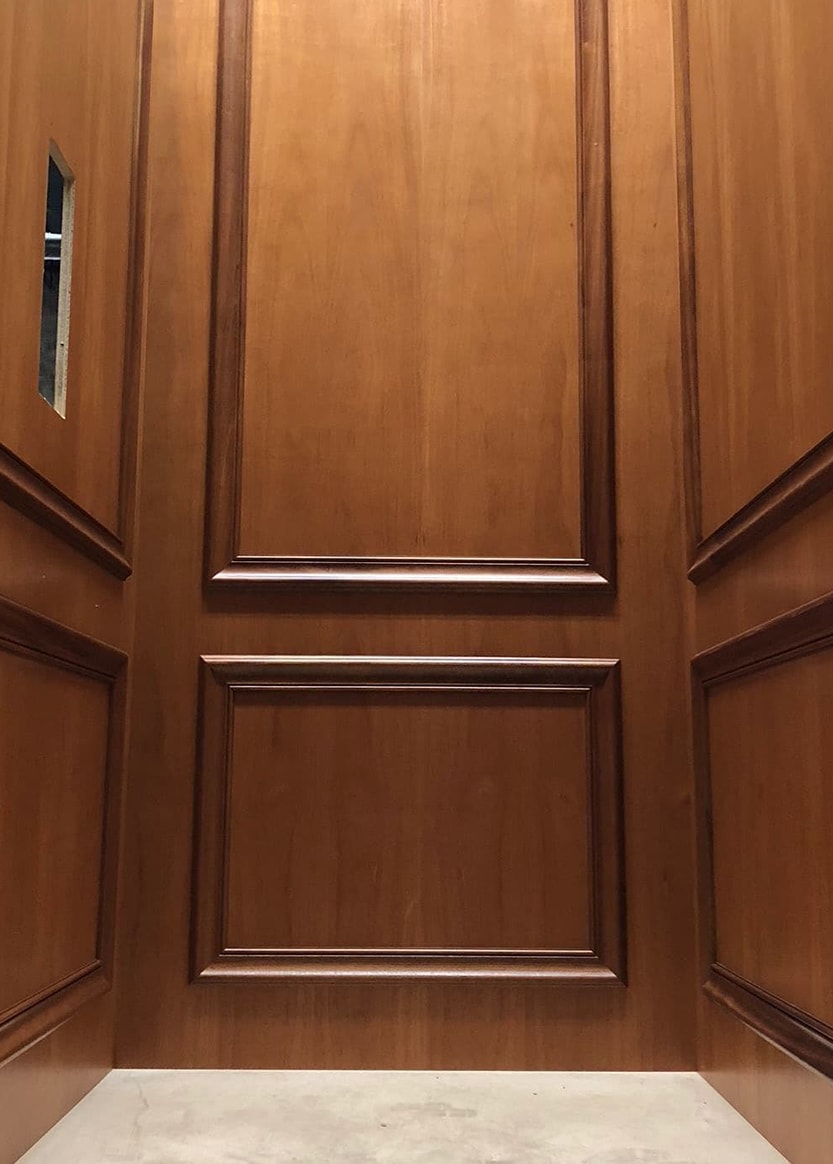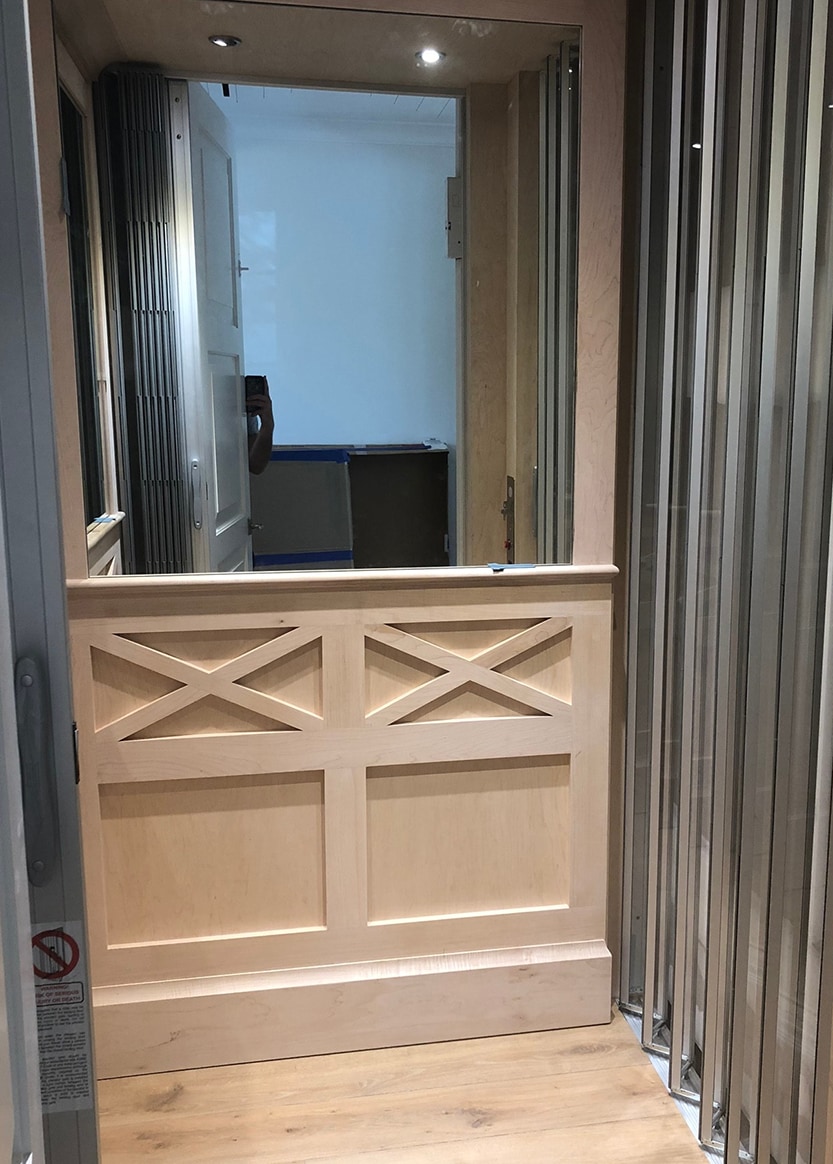 Our wood cabs can be built from a variety of wood species such as maple, walnut, cherry, mahogany, and exotic species as well, stained and/or finished to your liking.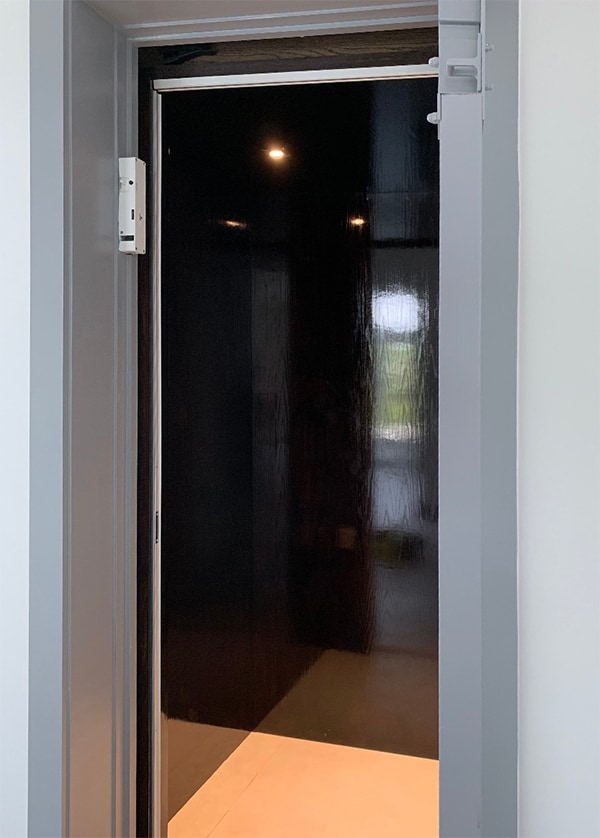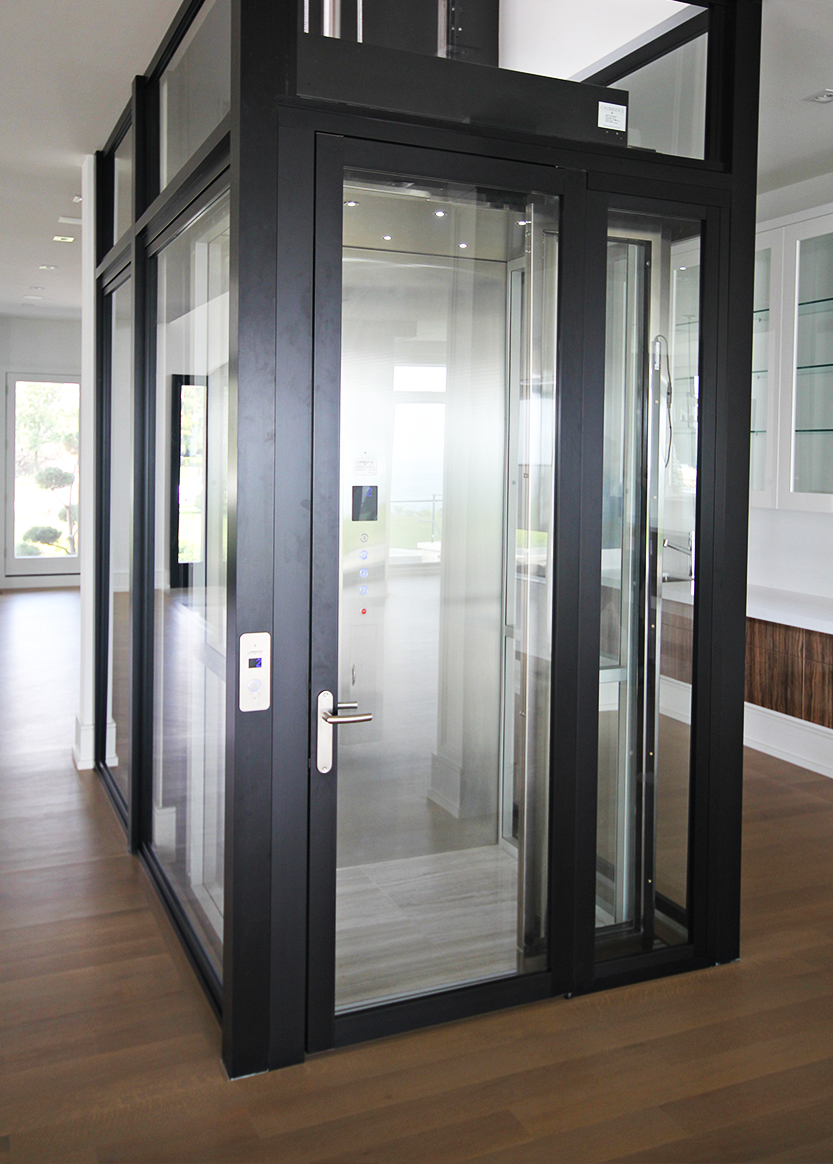 Our custom QRL can also be designed with glass panels—from just a window to a fully glass hoistway. All glass is stamped laminated safety glass with a ANSI Z97.1 rating.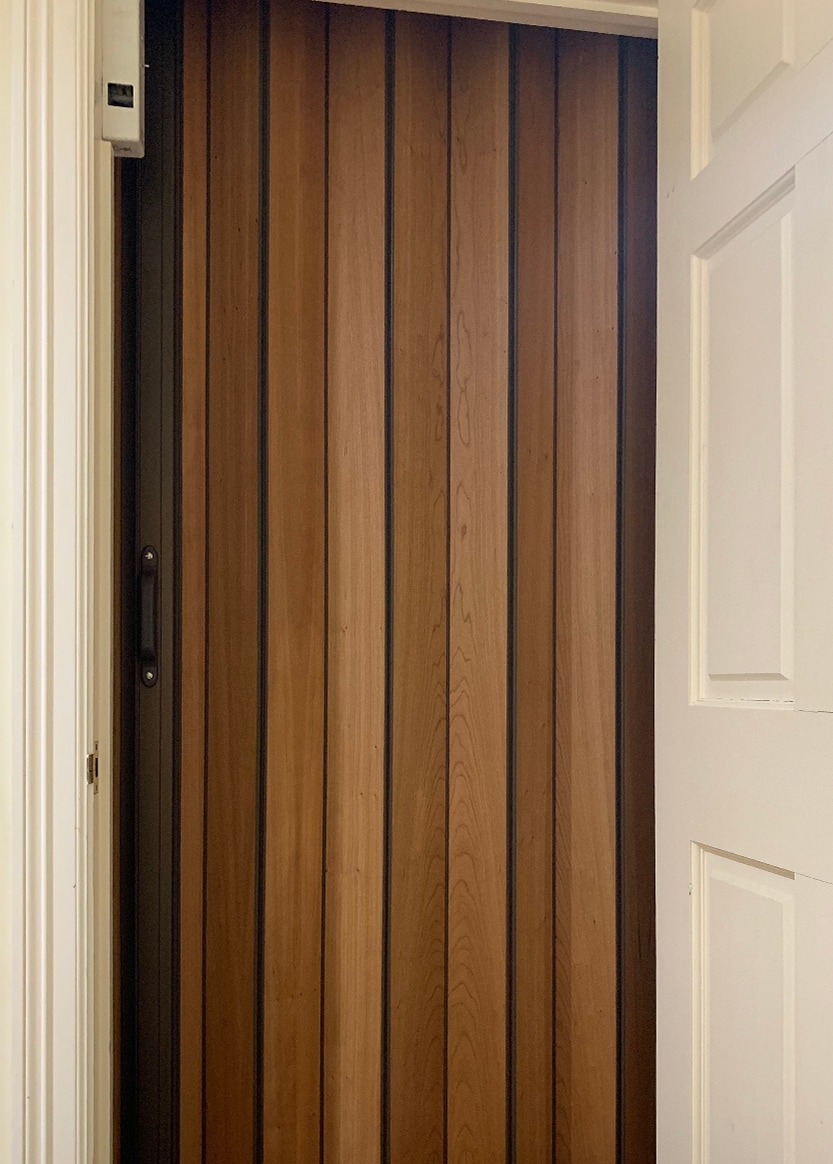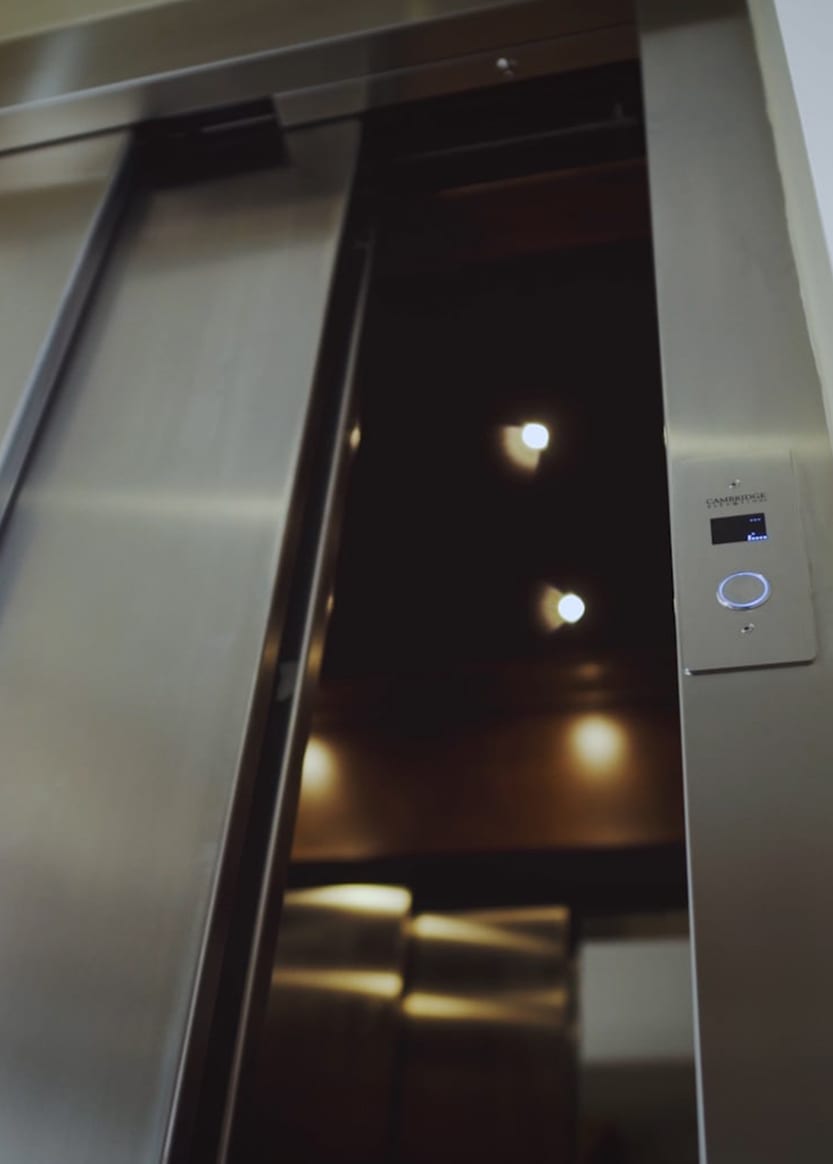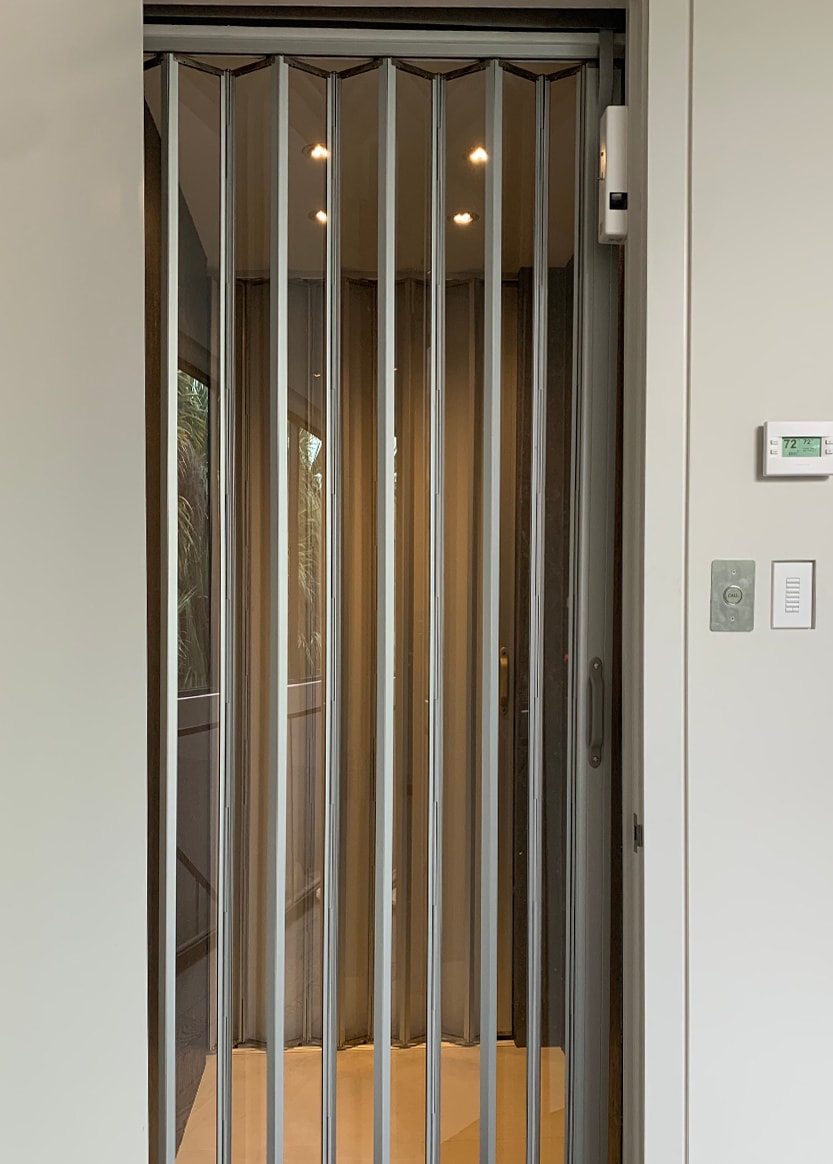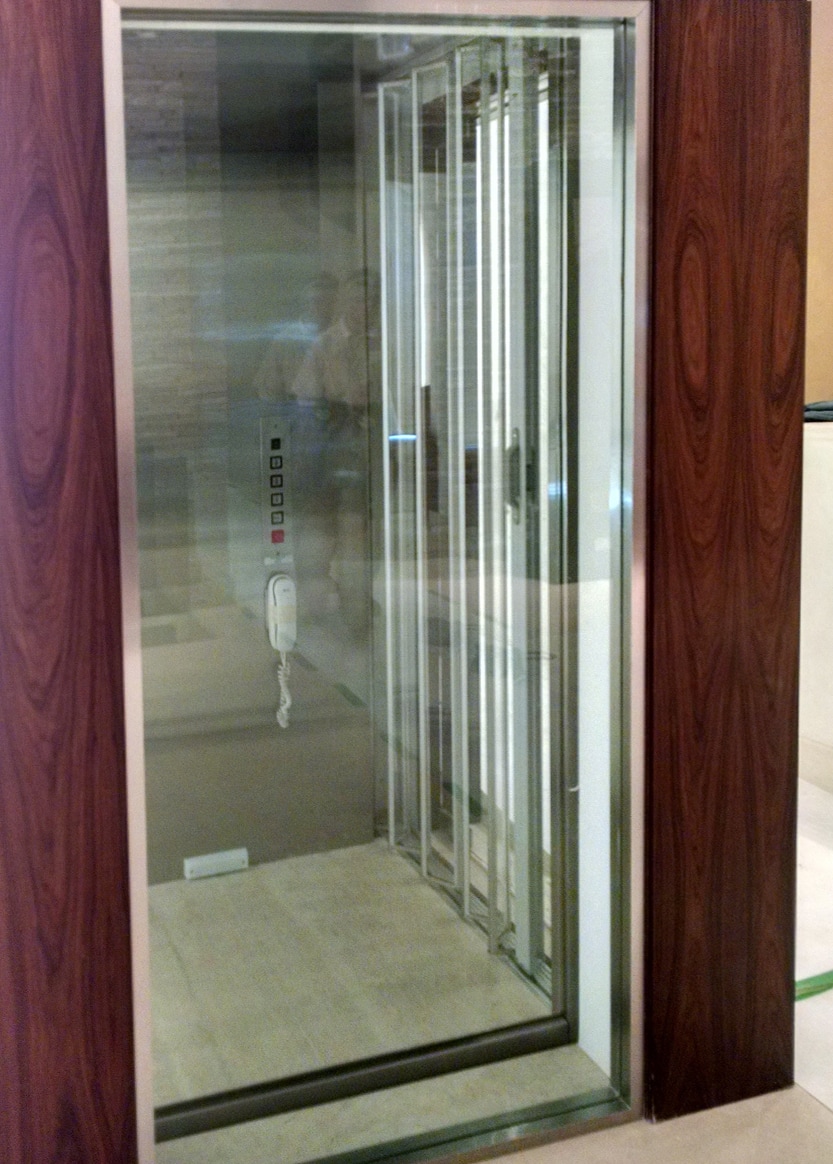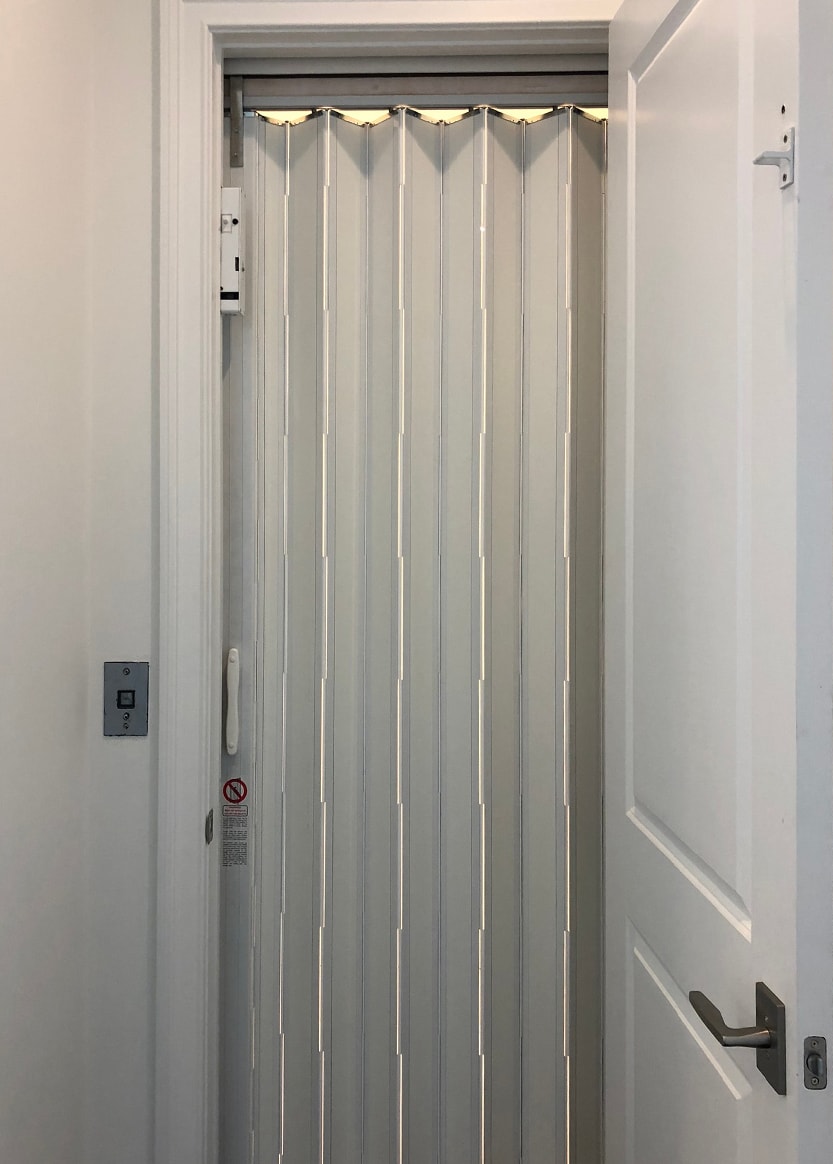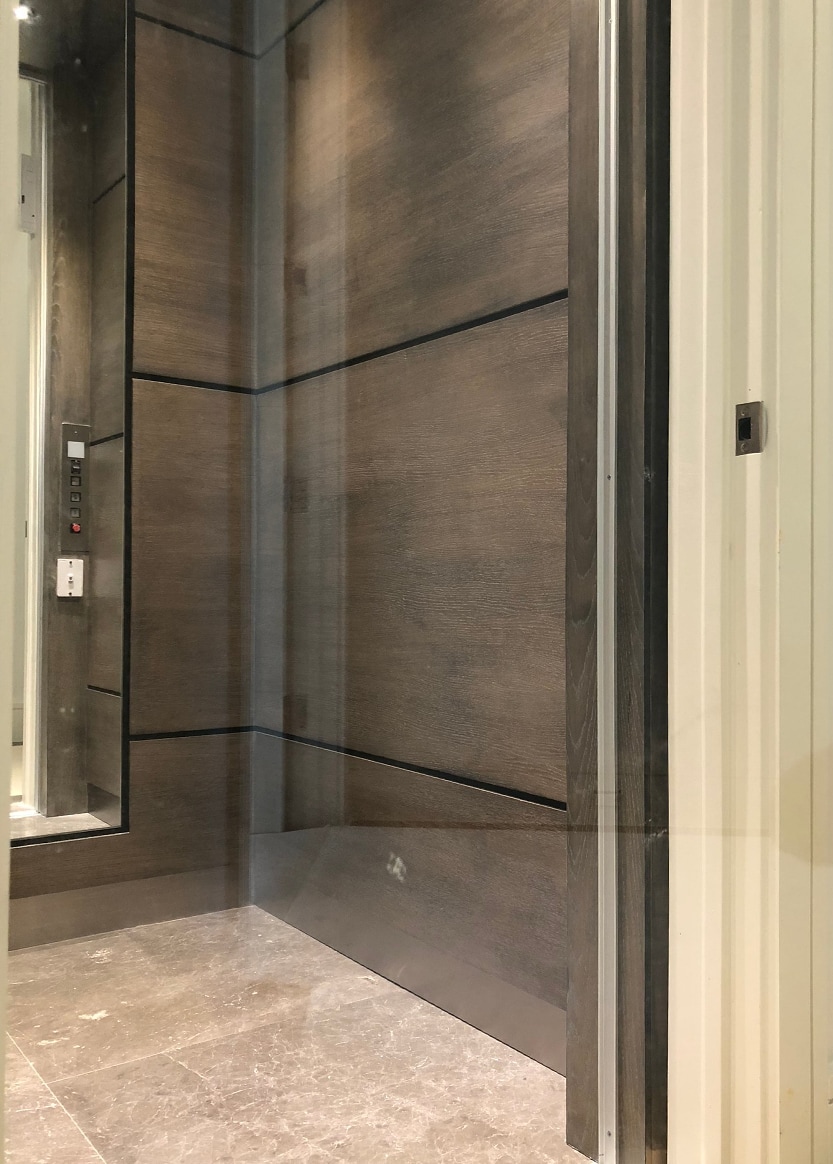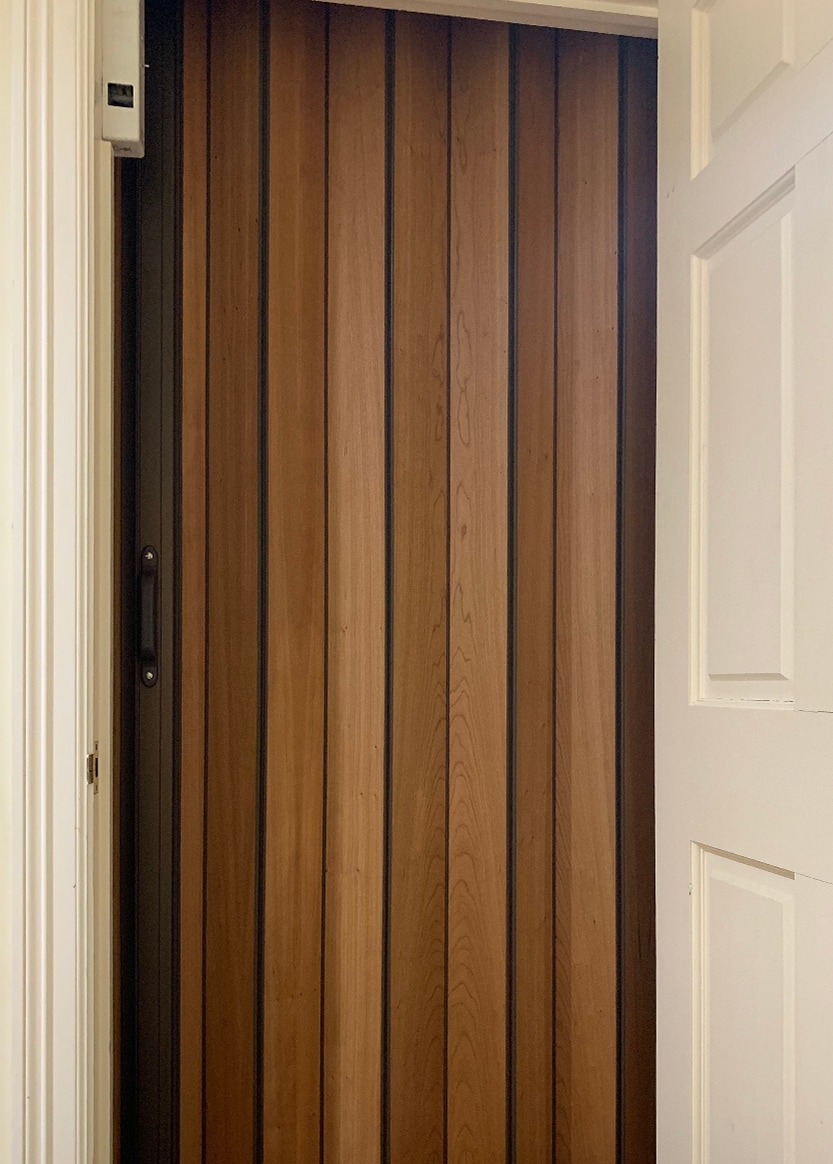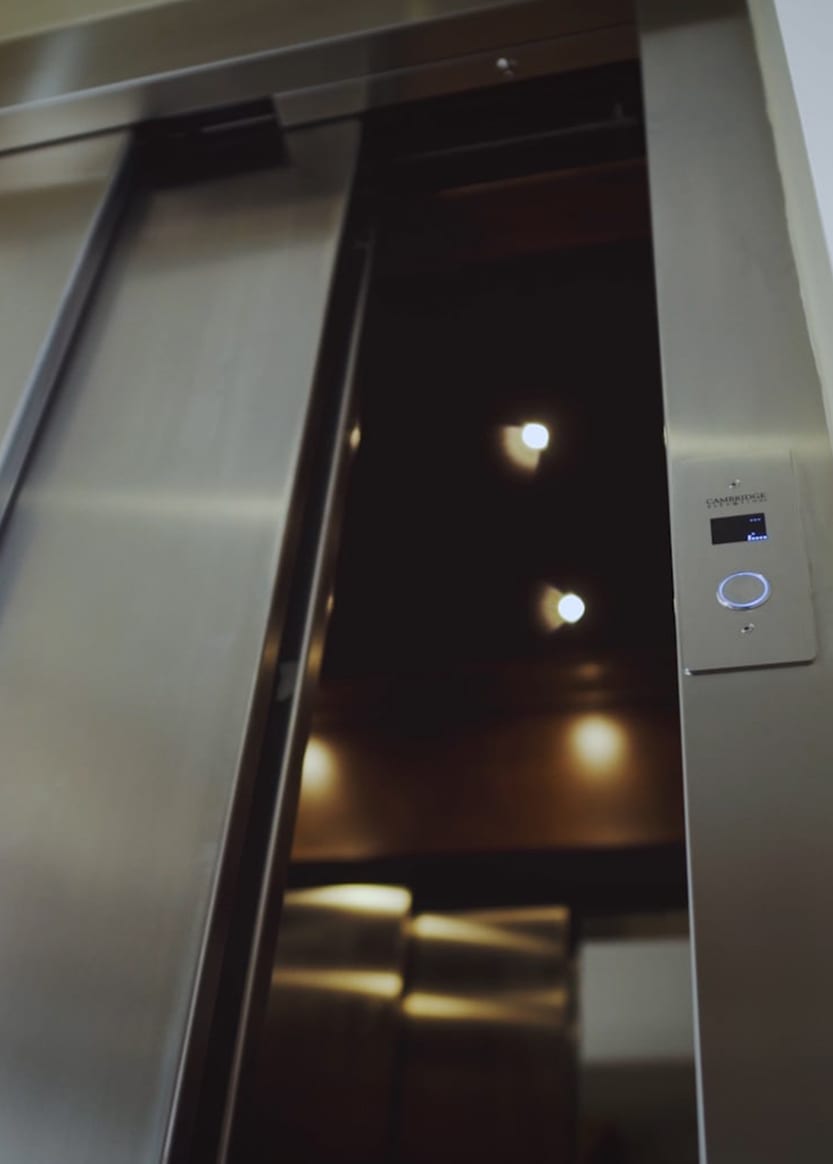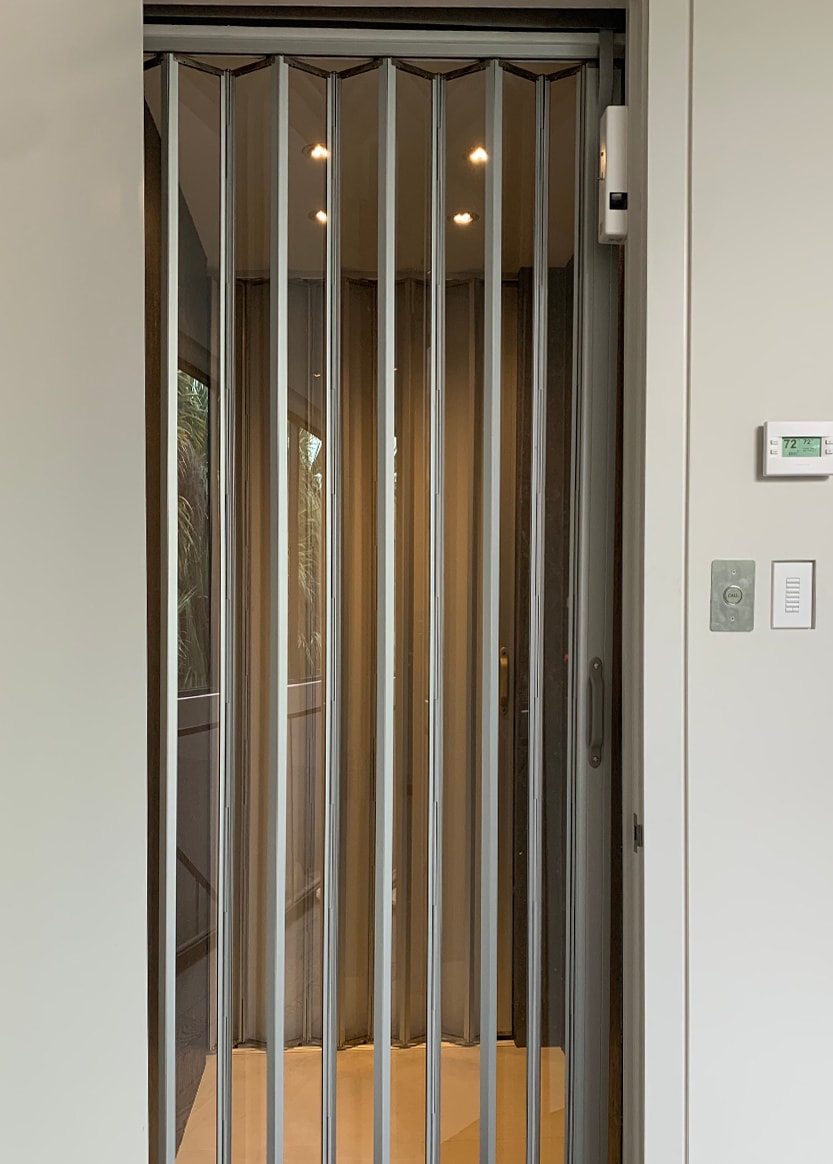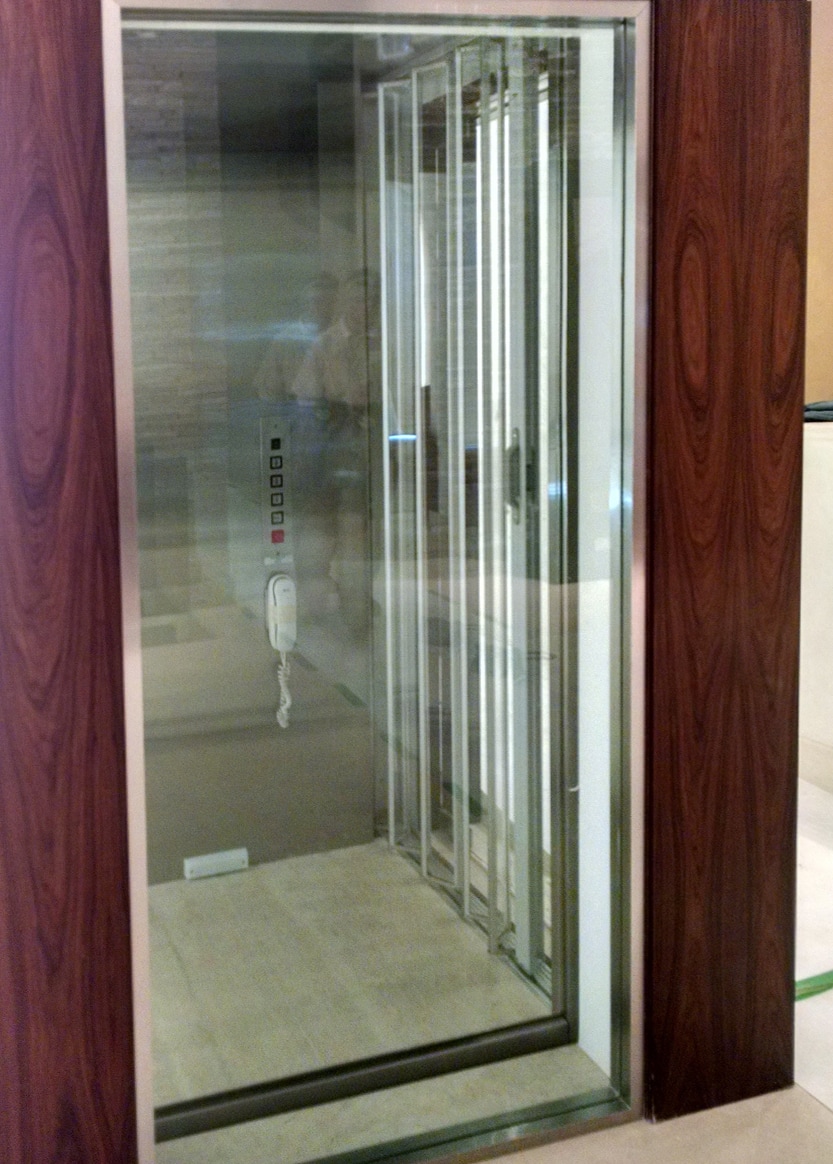 All QRL gates can either be fully automatic or have a manual accordion gate closer. Rise Above Elevator also offers several different door options—pre-primed for your custom touch, stainless, and 2 hour-rated glass doors. We offer a large variety of accordion gates for a truly custom and timeless feel. See our custom upgrades list below.
Package Options
You dream it, we build it.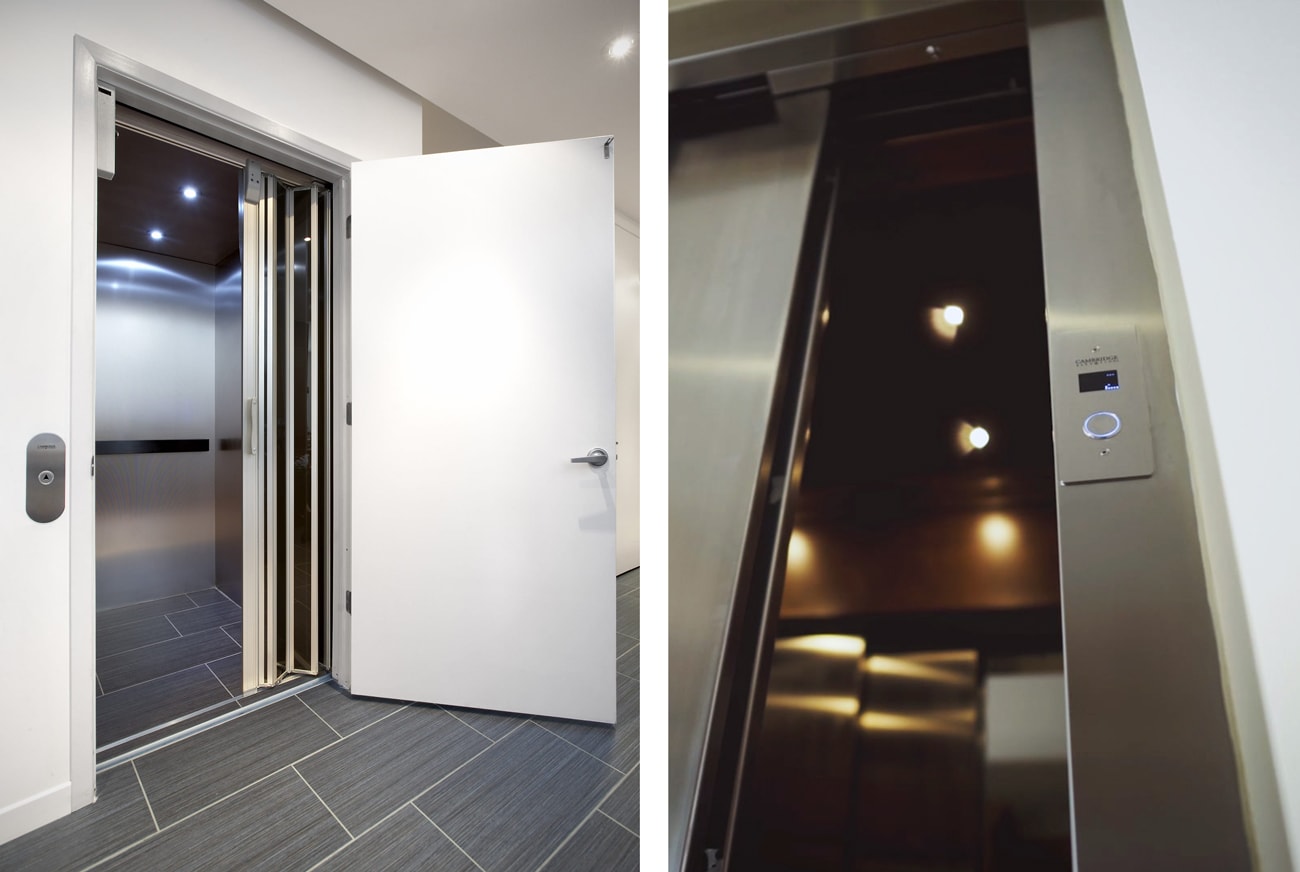 Our Quiet Ride Lift (QRL) basic standard package travels at 40 feet per minute. We also offer quicker speeds depending on overhead and clearances of the hoistway. The QRL is also built to fit your hoistway, allowing the maximum amount of square footage for your cab. The basic package offers a flat wall paint-grade birch cab with stainless handrail, hall and car fixtures, recessed LED cab lighting with a solid panel accordion gate.
Rise Above Elevator also offers the QRL as a fully-automatic elevator. Our fully-automatic residential elevators are built to last. We offer single-speed, two-speed, and three-speed commercial doors from the top commercial door industry providers.
Rise Above Elevator can build a QRL to meet any client's needs. Best of all, we offer the industry's shortest turn-around time from contract to installation.
1-Year Warranty
1,000 Capacity
1–6 stops
40 Feet per Minute
Industry-Leading Cab Stabilization Features for the Smoothest Ride
Paint-Grade Birch Wood Cab
Stainless COP (Cabin Operating Panel)
Stainless Hall Calls
1 Stainless Handrail
Maximum Cab Size Built to Fit Hoistway (within code requirements)
Clear Lucite or Solid White panel accordion gate
Smooth Quiet Ride
All COPs have an Integrated Phone
Emergency Light
Battery Back-Up Emergency Lowering
All Lifts Can have a Homing Floor
8 ft. Cab (100 in. overhead clearance is required. Shorter cabs available.)
LED Cab Lighting
Flooring Provided by Others
Best Safety Features in the Industry
All Lifts Meet and Exceed ASME A2013 17.1 Private Residence National
Elevator Code
Onsite Consultations
Automatic Accordion Gate Operators
Custom Plating
Quicker Travel Speeds
A large variety of accordion gates (See Accordion Gate Brochure)
Scissor Gates
Many different species of wood for your custom cab (Please Inquire If not Advertised)
Large Cab Selection See Website and Brochure for options
All wood species of wood can be lacquer finished
Mirrors ANSI 97.1 rated and stamped
Fully automatic commercial doors
Glass and stainless cabs
Have questions? Want a quote? We have solutions.