South Florida
Elevator Installation
Rise Above Elevator recognizes that people install residential elevators for many reasons. Owning a home lift is becoming a normalcy and convenience similar to an appliance.
Many times home owners have installed residential elevators for future planning upcoming surgery, moving in a elderly family member, pets are having trouble going up and down the stairs. ADA accessibility for yourself or a loved one.
Either way it's a great investment for the future of your home. So if you're in the market for a Residential elevator don't hesitate to give Rise Above Elevator a call for a quote.
Hydraulic Elevator Options
We offer the smoothest hydraulic and residential elevator in the industry. Our residential hydraulic elevator lifts are 2 to 1 roped hydro-systems with the most structurally engineered slings to carry your cab.
Our lifts capacity ratings are determined by the square footage of your cab.
Every member of our installation team is state-certified elevator technicians to ensure that all of our lifts are built to meet and exceed ASME A2013 17.1 standards, which is currently the national elevator and private residence elevator building code.
The Quiet Ride Lift QRL requires a machine room. The ideal machine room location is adjacent to the hoist-way. Remote machine rooms are no problem either but they will require a pre-pipe either overhead or underground.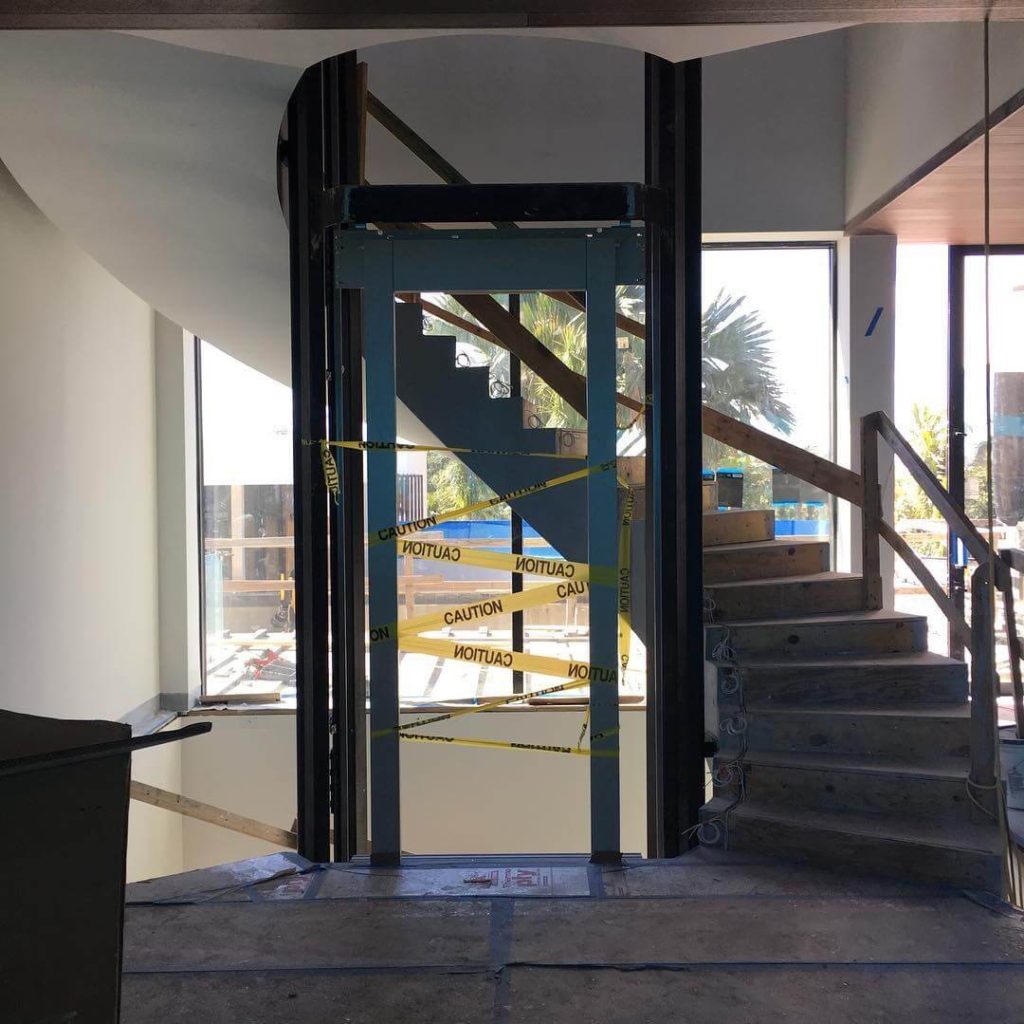 Hydraulic Elevator Options
Machine Room Less "MRL" Elevators
Our MRL home lift is a winding drum overhead motor fully engineered lift. This lift uses two ⅜ of an inch top grade cables to raise and lower the elevator. With a variable frequency drive to ensure the quietest and smoothest ride in the industry. All MRL residential elevators are built to exceed ASME A2013 17.1 private residence national elevator code.
The MRL unit travels at 40 feet per minute and every cab is built to the size of your hoistway to give you the maximum amount of square footage in your cab.
An advantage of our MRL home elevator is it doesn't require a machine room so you lose less square footage of your home.
Our MRL has a max capacity of 950 pounds. It comes with a stainless hall and COP fixtures with an integrated phone. Recessed LED cab lighting and a solid accordion gate.
Looking for a commercial or residential vertical lift?
Industry-Leading Cab Stabilization
Battery Back-Up Emergency Lowering
Rise Above Elevator has highly trained professionals ready to assist you with any questions you may have about our current services and products.
We believe in providing exceptional customer service to all our clients. We provide around the clock emergency service because we know some of our clients depend on their vertical transportation for their everyday needs.